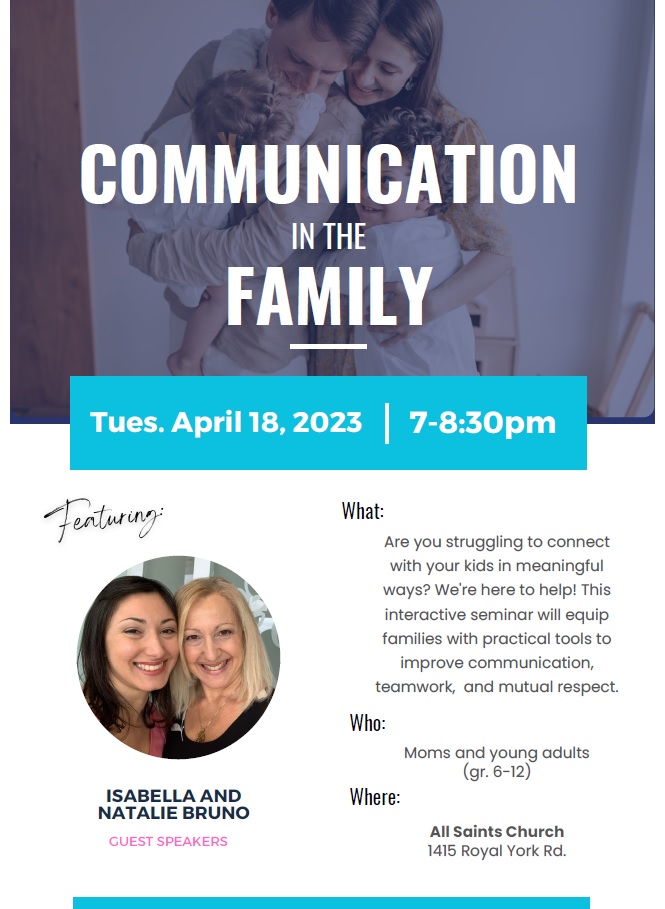 Catholic Moms Group:
We are very excited about our upcoming meeting on Tuesday, April 18th 2023 at 7:00 pm with Isabella and Natalie Bruno! They are going to give us some great tips and help us learn ways to be better communicators! Please join us.
If you have any questions, please feel free to contact Krystyna by email: k.zasowski@hotmail.com and please share this invitation with your friends.
Visit our website: https://allsaintset.archtoronto.org/en/our-ministries/liturgical/catholic-moms-group/
---
Catholic Moms Group is a program approved by the Archdiocese of Toronto, and developed by Dynamic Women Association of Ontario.

Why Join a Catholic Mothers Group?
Moms in this day and age are so very busy! Often moms are working full-time, driving kids to and from extracurricular activities, helping with homework, cooking, cleaning, grocery shopping, and trying to find just a little bit of time for themselves. How would a busy mom find the time to go to a Catholic Mothers Group? What are the benefits of joining a group?

Come meet inspiring Catholic Moms and find resources and encouragement!
All Saints' - CATHOLIC MOMS GROUP:
DEAR MOMS, The Catholic Moms Group welcomes Moms of every level of experience! Want to be refreshed, renewed and inspired? Come meet other moms, just like you! Please join us, every third Tuesday of the month at 7pm.
Also, our Moms and Tots are back on Wednesdays from 9:30am to 11:30am in the Parish Hall.
For more info contact Krystyna Zasowski by email at k.zasowski@hotmail.com
Visit our website: https://allsaintset.archtoronto.org/en/our-ministries/liturgical/catholic-moms-group/